Want an extraordinary breakfast idea? Try preparing waffle french toast! Check out Lisa's recipe for this one-of-a-kind breakfast for someone special!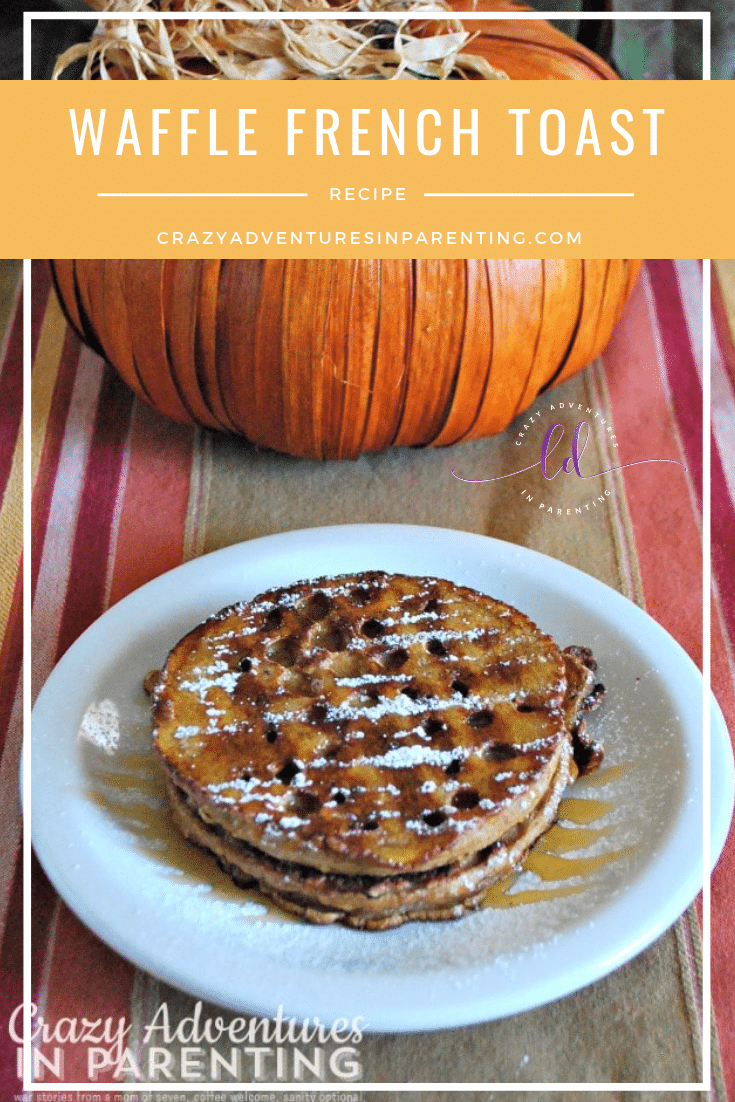 Waffle French Toast
Breakfast for dinner is one of my favoritest, favoritest meals. We get to go "all out" on our breakfast preparations, making everything under the sun with plenty of leftovers for breakfasts in the future. Hooray! It makes me happy. 🤗
Breakfast is my favorite meal of the day, and morphing it into one of the other meals? Magic. Especially when you do something so unexpected, like this Waffle French Toast using Eggo® waffles. OH YES I DID! Pair these with your favorite breakfast foods, and you've got something special alright.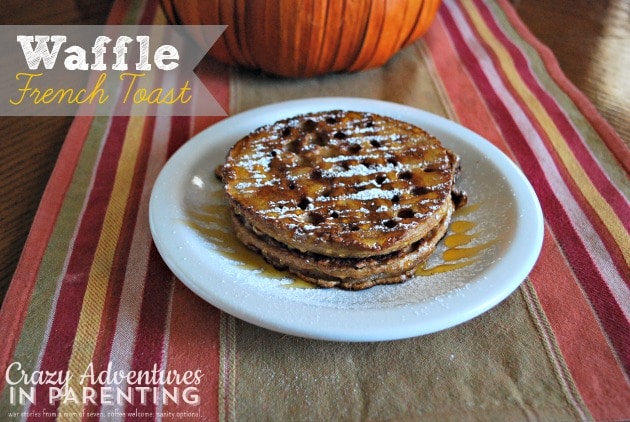 Where Can I Find The Actual Recipe Card?
If you'd rather skip all of my cooking tips, important information for this recipe, and similar recipe ideas – and get straight to the easy Waffle French Toast recipe, just scroll down to the bottom, where you'll find a printable recipe card.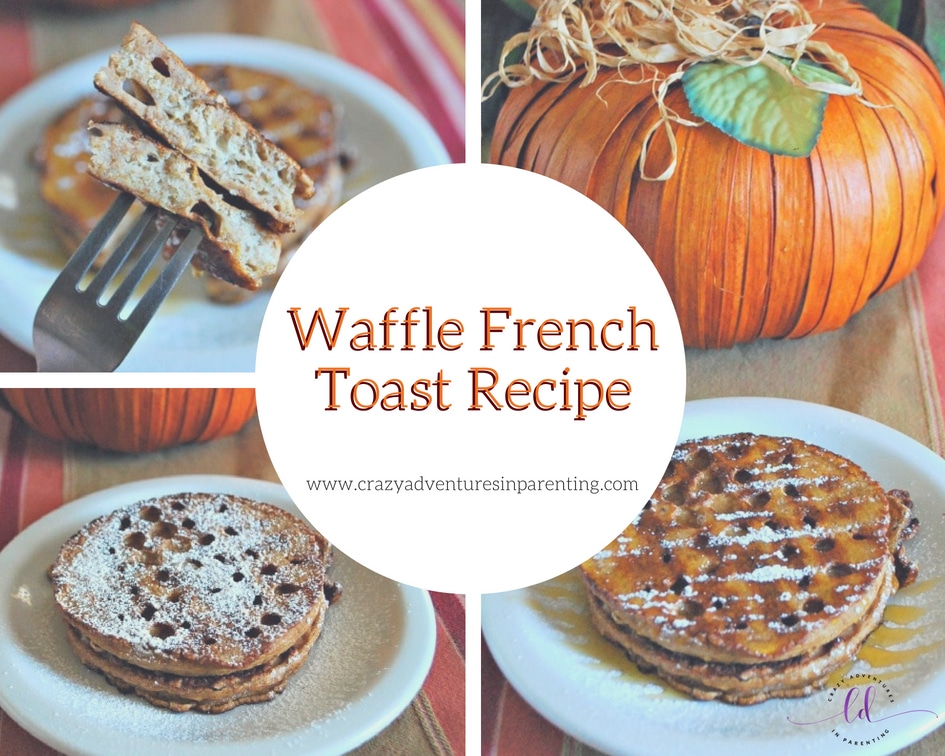 Ingredients to Make Waffle French Toast
Keep in mind, all of the ingredient amounts you'll need are in the printable recipe card below.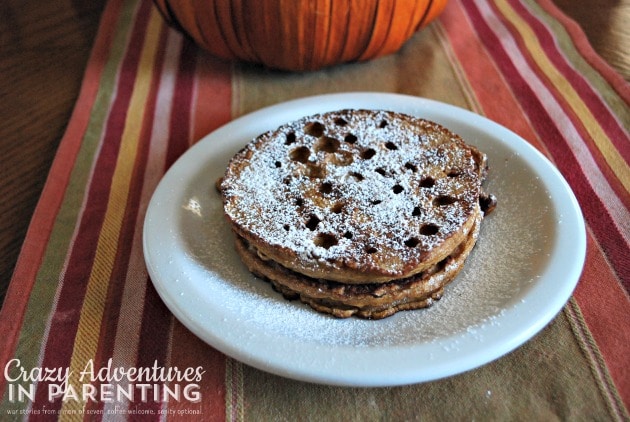 Tools Needed to Make Waffle French Toast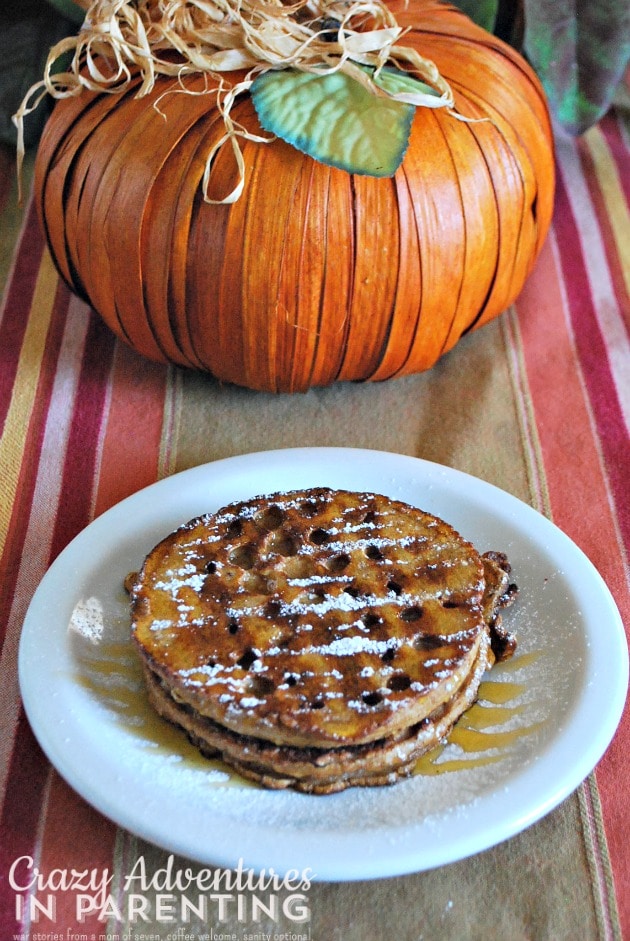 How to Make Waffle French Toast
To start, place your Eggo® waffles into the toaster to get nice and crisp to help withstand the french toast mixture. Don't let them get TOO crisp or brown, though.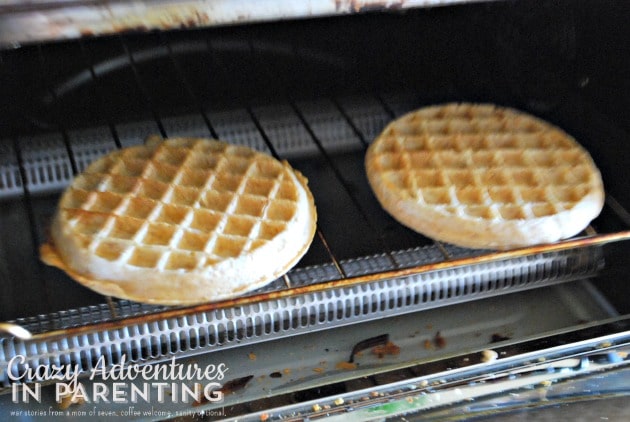 Whisk your egg, milk, cinnamon, flour (and vanilla extract if you'd like to add it) into a bowl nearby, and get it nice and whisked and frothy and ready to go.
Lay your waffle into the mixture, turn it onto both sides, getting it nice and soaked, and then lay it into a hot frying pan sprayed and buttered.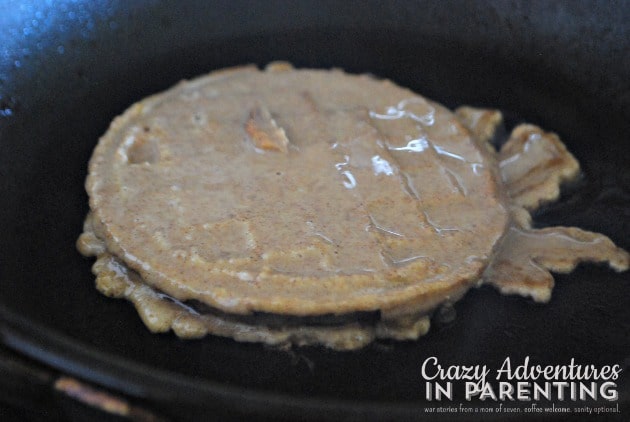 After about a minute, you'll flip it over with a spatula and admire the gorgeous color and waffle texture to the french toast. Gorgeous, isn't it?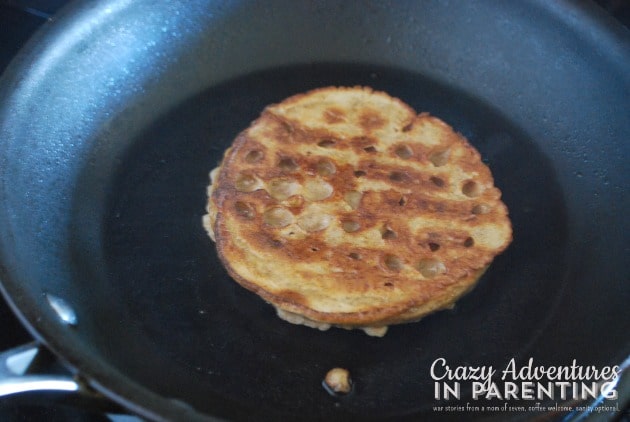 Once browned, crisp, and cooked through on both sides, transfer them to a plate, and stare lovingly at it for a few seconds while it cools. Because this, friends, is magical.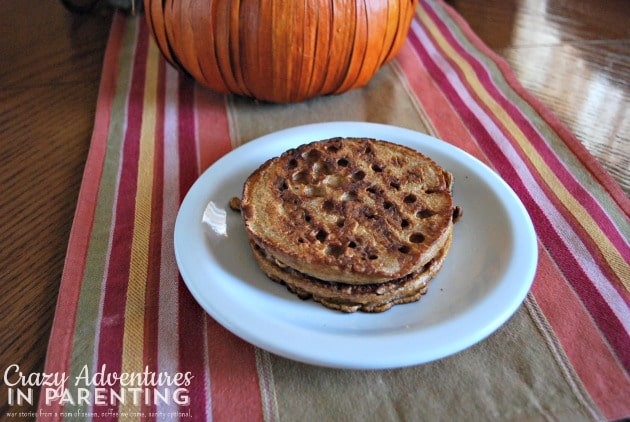 And to add to the magic, sprinkle some powdered sugar right on top. Go ahead, make your children's day.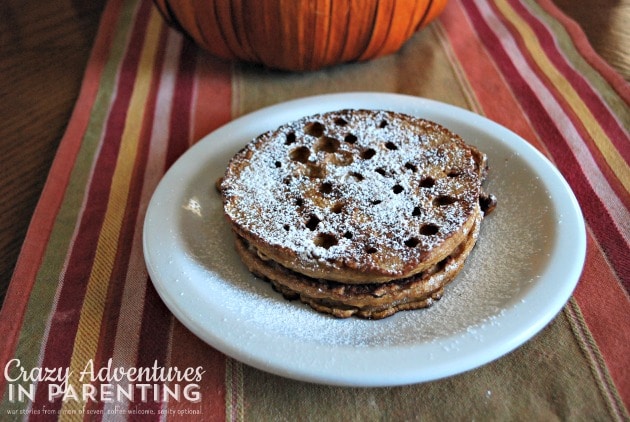 Drizzle onto it some honey or syrup (both are outrageously good with this) and serve, and expect to hear grumbles of goodness from your family, praising you for your awesomeness and wanting more.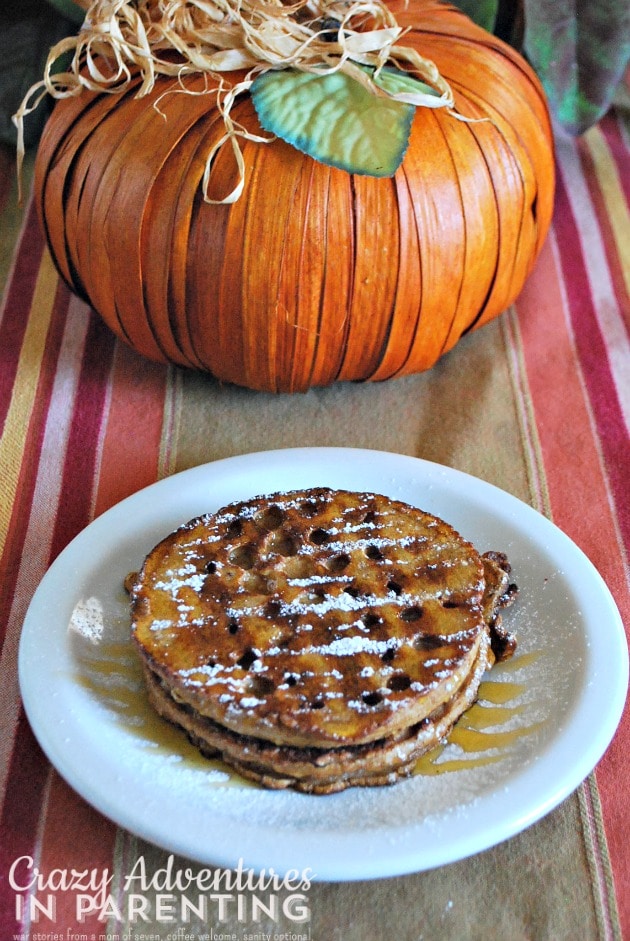 Look at this! Couldn't you just devour it?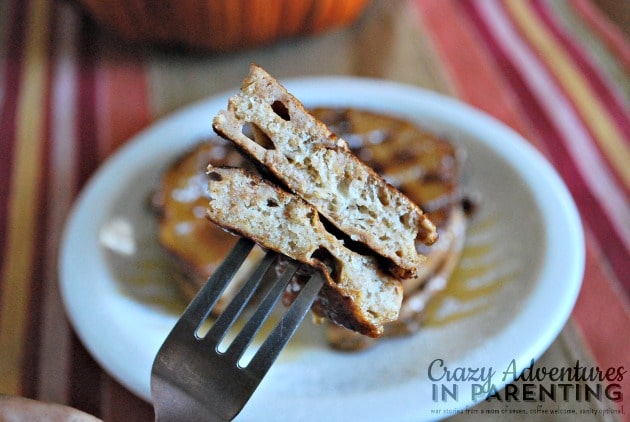 My Baby Dude did. He couldn't STOP eating it!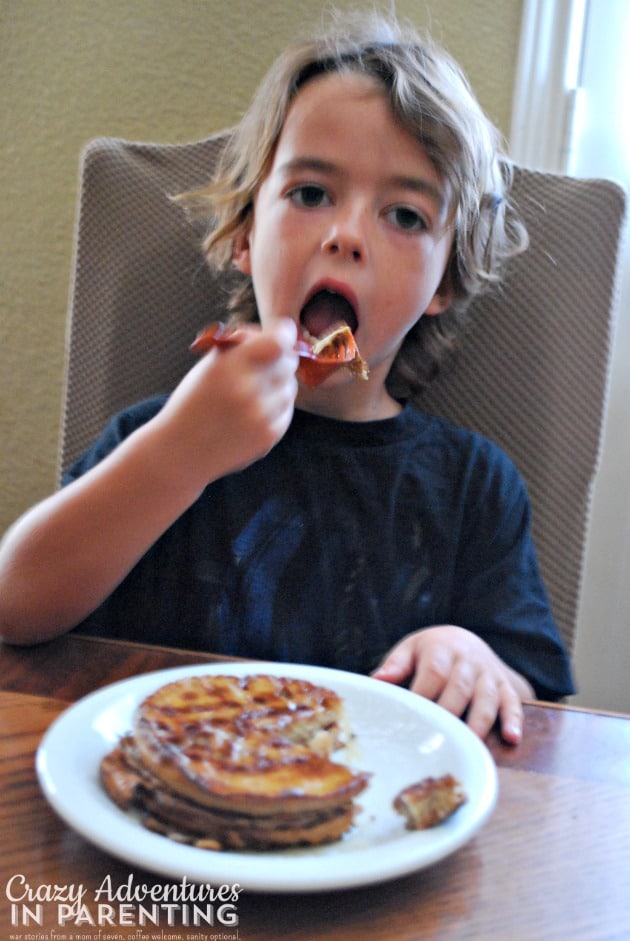 Can I Double or Triple This Recipe?
Absolutely! One serving of this recipe is for two waffles, so you can easily double or triple to create however many servings you need. I don't normally do my recipes this way, but the two-waffle/one-egg combo per person just seemed too easy to ignore!
What Goes with This Recipe?
Get the Printable Recipe Below!
If you love this Waffle French Toast recipe as much as we do, please leave me a 5-star review below and help me share this recipe on Facebook and Pinterest! If you do make the recipe, I hope you'll share that you tried it on Pinterest! I love it SO MUCH when readers share their feedback! 🙂

CRAVING MORE CRAFTS AND DELICIOUS RECIPES? Subscribe to my newsletter and follow along on Pinterest, Facebook, YouTube, and Instagram for all the latest updates!
Sign up below to receive my newsletter filled with delicious recipes, fun crafts, and family adventures straight into your inbox: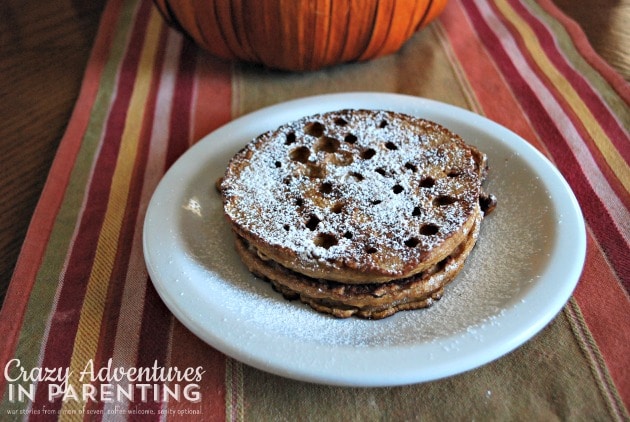 Waffle French Toast
Want an extraordinary breakfast idea? Try preparing waffle french toast! Check out Lisa's recipe for this one-of-a-kind breakfast for someone special!
Print
Pin
Rate
Instructions
Toast your waffles lightly in the toaster – just enough to make them crisp but not brown.

Whisk your egg well, then add the milk, flour, cinnamon, and vanilla (if desired); beat together until frothy and well combined.

Lay your waffle into the egg/milk mixture, let it sit for about 20 seconds; flip to other side, let sit.

Spray your pan with cooking spray and add a pat of butter.

Flip your waffle one more time in the egg/milk mixture, and be sure to have plenty of the mixture in each of the squares.

Gently lay the waffle into the melted butter in the pan.

Place the other waffle in the egg/milk mixture while the first one cooks.

After about a minute, flip the waffle over in the pan, ensuring it's crisp and done enough (no ooey gooey parts left).

Flip your second waffle in the egg/milk mixture while the first waffle cooks on its second side.

Once you're satisifed the waffle in the pan has been browned enough and cooked completely, place it on a nearby plate.

Place another pat of butter in the pan to melt; flip your second waffle in the egg/milk mixture one more time, making sure you get as much in the squares as possible.

Lay the second waffle in the melted butter gently, emptying the egg/milk mixture onto the top of the waffle, scraping the bowl.

Continue to cook this second waffle like you did the first, waiting until cooked thoroughly on each side before removing.

Serve warm on a plate with some sprinkled powdered sugar on top and some syrup or honey drizzled over top.
Notes
I created this recipe to make it easily double-able. For 1 person you'll need 2 waffles and 1 egg, along with the remainder of the ingredients. This ratio makes it easy to double so you can easily make these to order per person.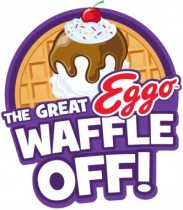 What could you create using Eggo® waffles? Enter The Great Eggo® Waffle Off! contest and visit Eggo® on Facebook for their contest app. Breakfast, lunch, dinner or dessert, you choose what recipe to create and enter that could win you the $5000 grand prize (or several other prizes for runners-up, including cash or Eggo® products)!
Did you catch my Chocolate Cream Cheese Waffle Fruit Bites, Whole Wheat Peanut Butter Banana Blueberry Waffles and Ice Cream Birthday Waffle Sundae with Biscoff Spread and OREOs that I made previously? Stay tuned for more wafflelicious recipes from me every Wednesday from today until the end of October as a Chief Waffle Officer for Eggo®.