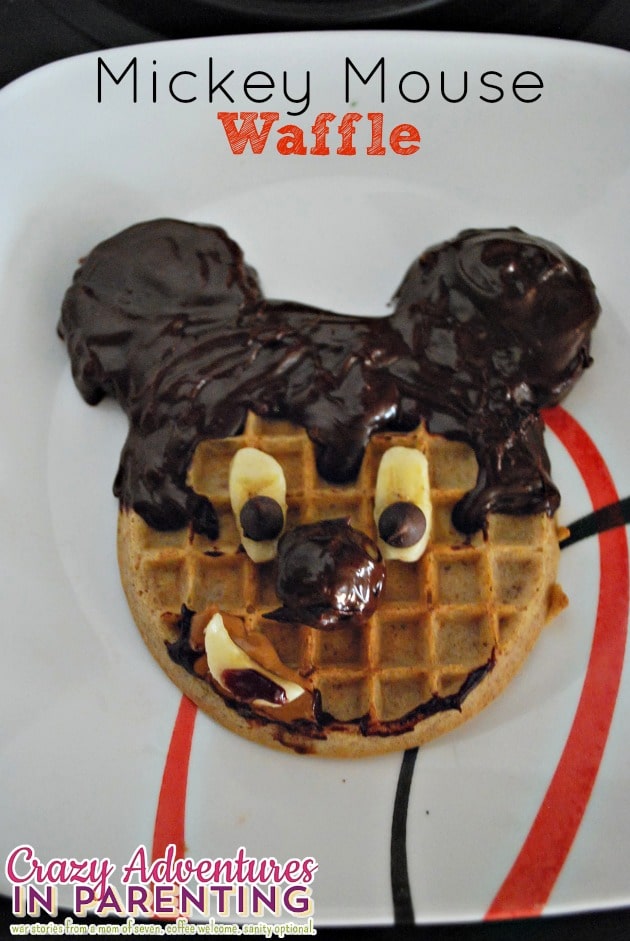 As a Chief Waffle Officer for Eggo®, our task this week was to create a character out of waffles. This one was a no-brainer for me, really. We looooove Mickey Mouse, and we're a pretty Disney-addicted family. I've had Disney on the brain lately, so a character out of waffles – oh heck yeah, it's gonna be The Mouse. I already had my favoritest Mickey Mouse tool on hand to help me – my Mickey Mouse pancake mold.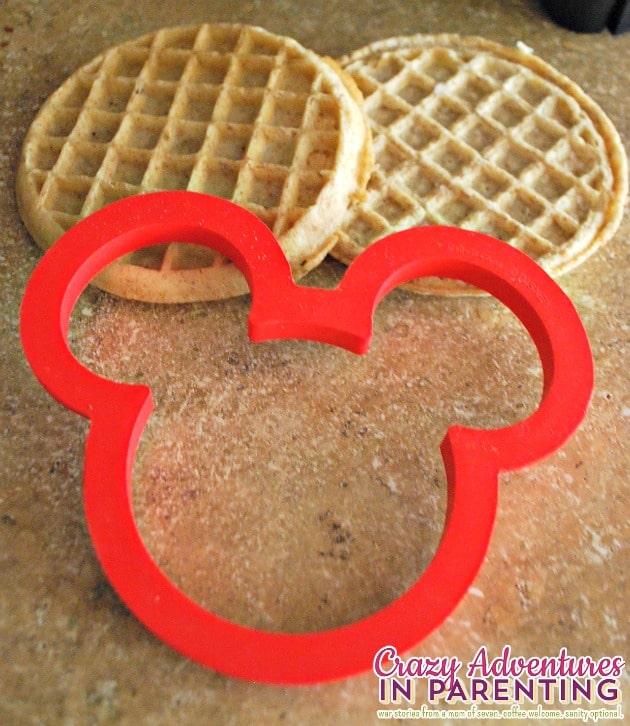 Since the waffle was already the size of his head, I used the mold to cut out his ears.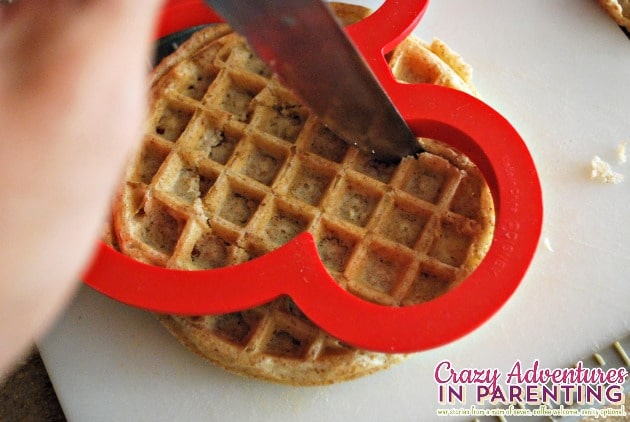 See? Look at how perfect that is!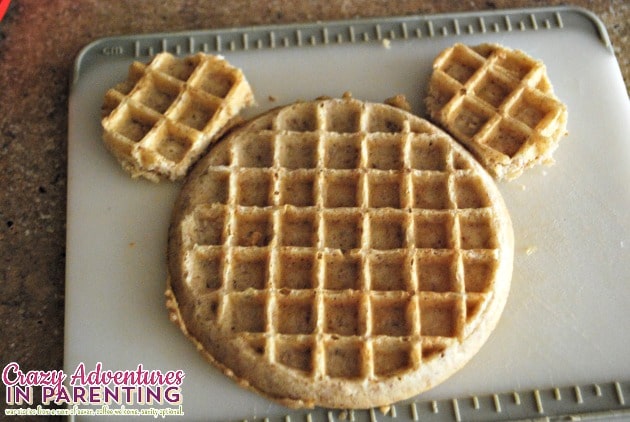 I took about a handful of chocolate chips, and melted it in the microwave on 15-second intervals. To make it creamy, I added a little bit of milk and stirred.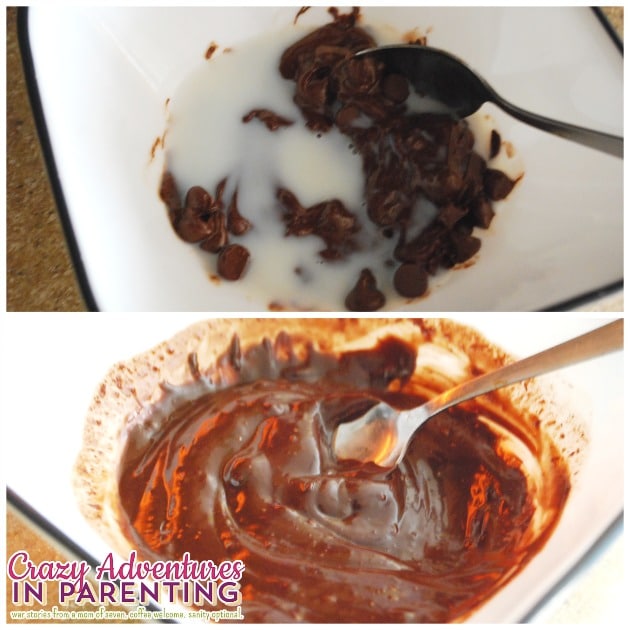 After toasting the waffles slightly (I wanted them warmed, but not too hard), I dropped into the melted chocolate the Mickey ears.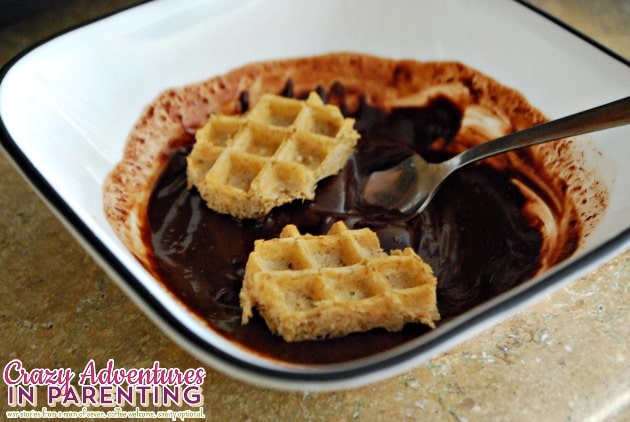 But, before covering Mickey's ears in chocolate, I painted on the chocolate onto the top of his head as best as I could (this wasn't easy!)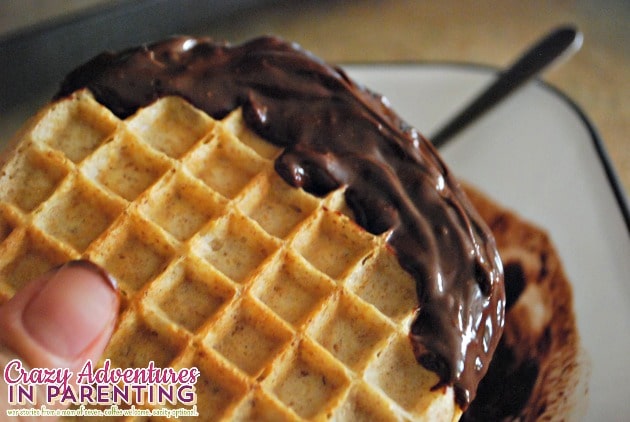 Once I coated the ears, I laid them on the plate, and used more chocolate to smooth everything out. I also created his black head shape here, too.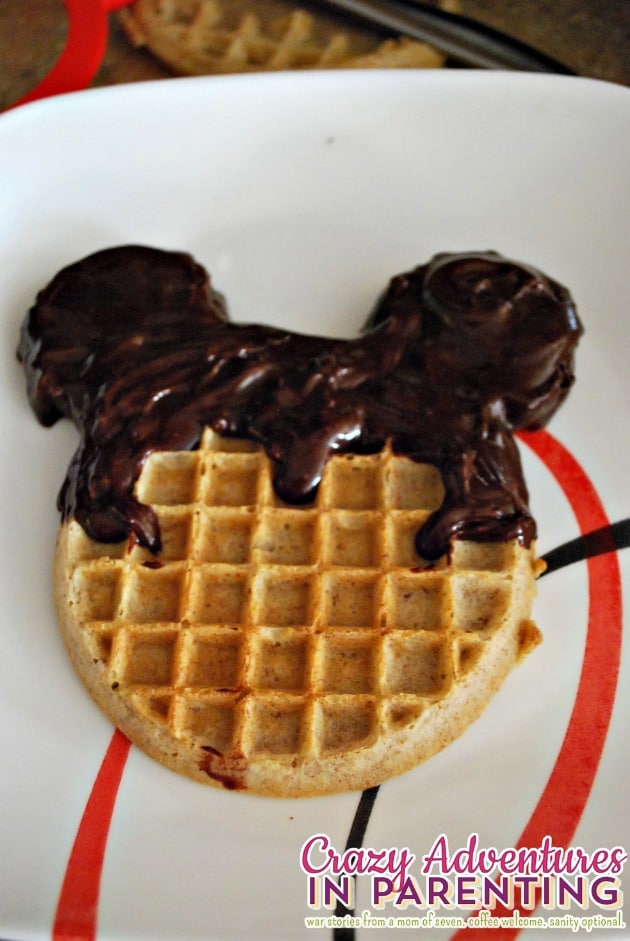 Using banana slices, I cut out eye shapes, but kept the remnants around for later (and for snacking).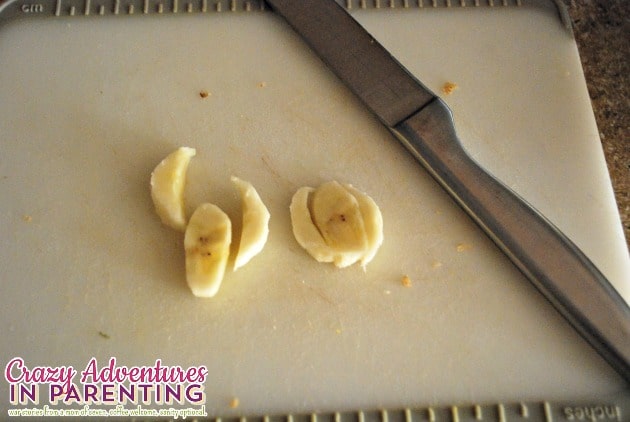 To help make the banana and chocolate chips stick, coat the backs of them lightly with the melted chocolate, like so: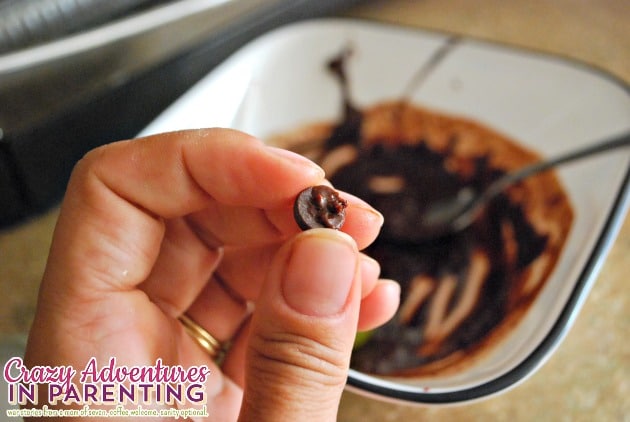 For his nose, I used a grape. (It's the perfect shape!)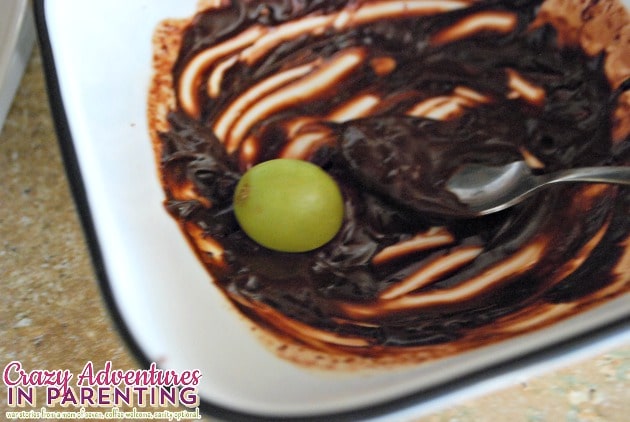 Using chocolate, peanut butter, banana, and a little jelly, here's how you assemble Mickey's mouth: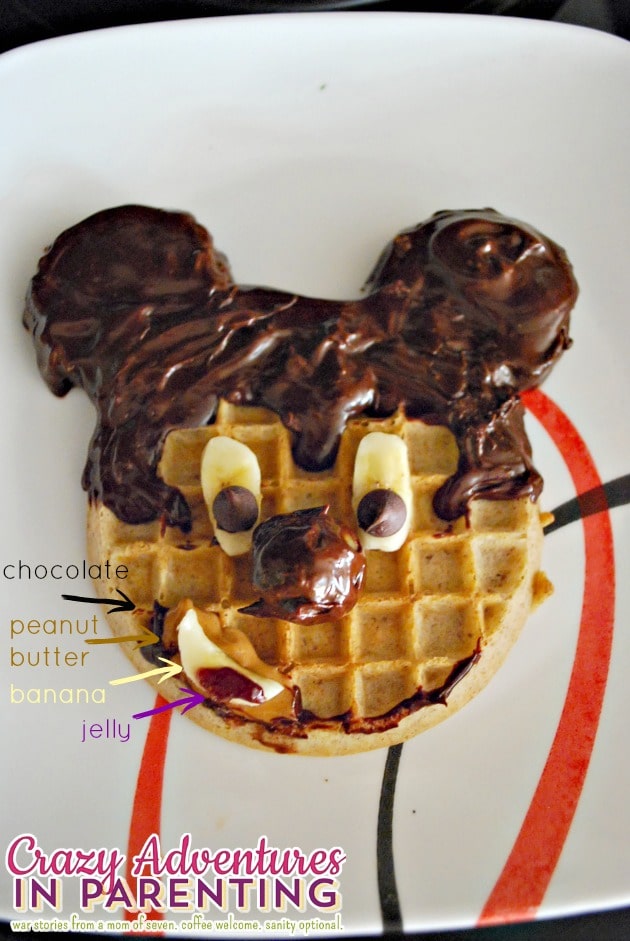 Ta-da! Here he is! Not as easy as I thought he'd be, but still cute (and tasty) nonetheless!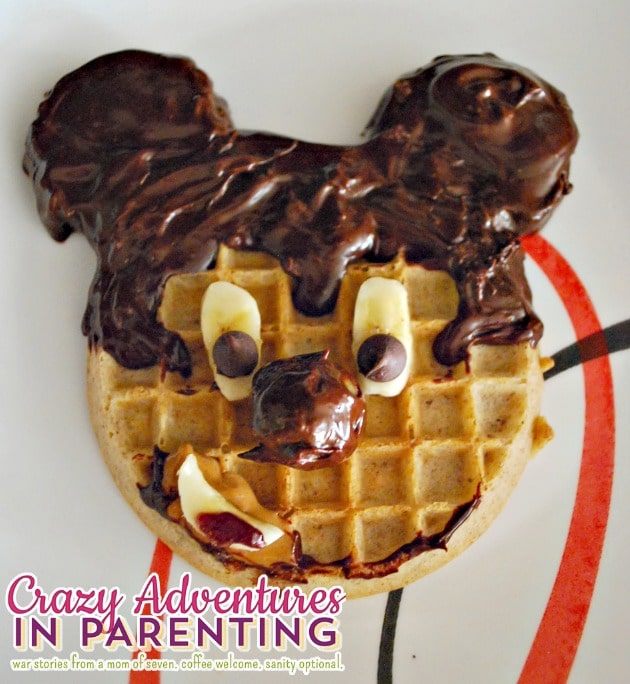 What do you think?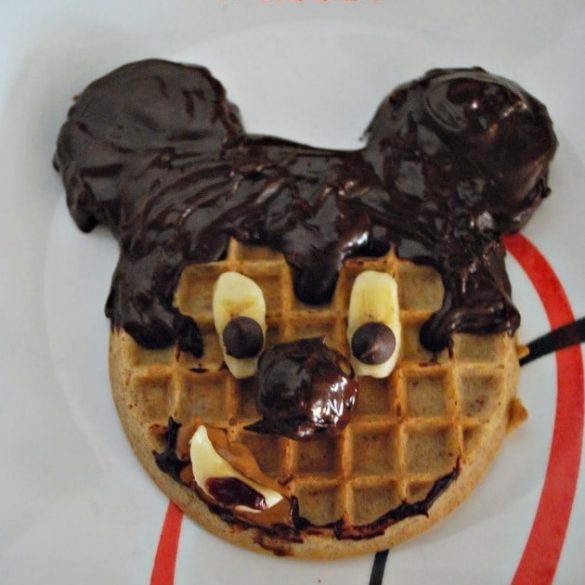 Mickey Mouse Waffles
These Mickey Mouse waffles would be a cute surprise for your child on their birthday, or to announce a surprise trip, maybe? 🙂
Print
Pin
Rate
Instructions
Thaw your waffles to room temperature, but do not toast them just yet.

Cut out Mickey's ears out of one waffle (almost creating a figure 8).

Grabbing a handful of chocolate chips, melt the chips in the microwave using 15-second intervals until fully melted.

Stir into the melted chocolate a little milk until it's nice and creamy.

Plop into the creamy melted chocolate the cut out ears, and gently paint onto the whole waffle some chocolate to form the top of Mickey's head.

Place the waffle on a plate, and cover Mickey's ears with chocolate; join to the painted chocolate head.

Fill in the gaps and smooth out the chocolate with the remaining chocolate (without using it all), also forming the top of Mickey's head over the eyes.

Place the grape into the melted chocolate and cover completely.

Take a banana and cut off two slices, cut into the slices to make oval eyes, cover the backs with a little bit of chocolate and place onto Mickey's face.

Using two chocolate chips, cover the backs with chocolate and place onto Mickey's banana eyes.

Using a little bit of chocolate, form the smile at the bottom.

With a teaspoon half full of creamy peanut butter, place a little on one end of his face on top of the chocolate smile.

Place one of the leftover pieces of banana smiles onto the peanut butter, dabbing a tiny bit of jelly onto the banana (to symbolize his tongue).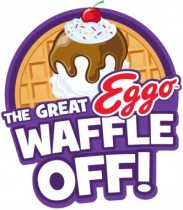 What could you create using Eggo® waffles? Enter The Great Eggo® Waffle Off! contest and visit Eggo® on Facebook for their contest app. Breakfast, lunch, dinner or dessert, you choose what recipe to create and enter that could win you the $5000 grand prize (or several other prizes for runners-up, including cash or Eggo® products)!
Did you happen to catch my previous waffle recipes for Waffle French Toast, Chocolate Cream Cheese Waffle Fruit Bites, Whole Wheat Peanut Butter Banana Blueberry Waffles and Ice Cream Birthday Waffle Sundae with Biscoff Spread and OREOs that I made previously? Stay tuned for more wafflelicious recipes from me every Wednesday from today until the end of October as a Chief Waffle Officer for Eggo®.