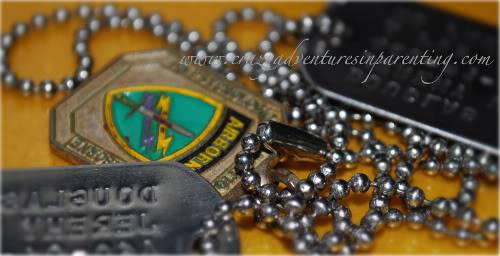 Last year's Veteran's Day was spent quite eventfully playing with military equipment and bouncing in jumpy houses. The year before it was spent at a local nursing home, honoring vets there. This year, it's spent much quieter, tucked away close to home, together. My husband's upstairs, hip-deep in Batman action figures, Dora dolls, and football video games while playing with the kids on his "day-off" (I use that term loosely, because he did go in for a couple hours this morning. The Army never sleeps here at JRTC.)
I am a proud Army wife, married to a proud Army soldier with 14 years of service. We've run the gamut of military adventures good and bad – a Valentine's Day deployment, an R-and-R visit for our son's birth, a nightmarish move 16-hours across country while 7-months pregnant, school issues over and over, housing nightmares, and other crazy things. But there's SO MUCH GOOD, like the wonderful friends and second families you make, the comradery with other military families, Disney, and Busch Gardens, and traveling the globe. Pride. Honor. Dignity. This article tells the military families' tale well.
(Side note: My hubby looks pretty sexy wearing his uniform. Ahem.)
Today is a day of remembrance, a day to honor those who have chosen to wear the country's uniform in service to defend our freedoms and fight for liberty and justice. Many congratulations to you and continued thanks on a job well done to every soldier now home safe and sound with your families. My continued prayers and thoughts are with those of you still overseas, still in harms way, fighting the good fight overseas. I hope to see you safe and stateside soon, friends. For those deploying in the upcoming months, be safe, be strong, keep your head down, your chin up. Your nation thanks you for your service. This mother and wife, especially.
Happy Veteran's Day to every single person in uniform. Thank you for all that you sacrifice and do.
Never miss a thing! Subscribe today for all kinds of crazy parenting fun!